The Ghana Mompreneurs Club introduced the Monthly Success Clinic this year for their members as a way of educating them on essential business tools and tips to help their businesses grow . The Month of May's Success Clinic focused  on the use of Social Media for the businesses of Mompreneurs was organized on the 30th of May, 2018 at Christ The King Parish hall.
The Facilitator of the session was Allen Olayiwola , the Chief Technical Officer of eSolutions Consulting. The session began with a prayer by a member of the club Abena Serwaa Dickson.
After the prayer, founder of the club Mrs. Ethel Marfo touched on the background of the club to the members highlighting the objectives as Educating Mompreneurs through the monthly sucess clinics, Elevating Mompreneurs by enabling them to explore and develop themselves and taking advantage of opportunities and helping Mompreneurs to gain Economic Independence through vendoring opportunities that is usually a part of the monthly and quarterly meet ups.
Mr. Allen took over from there and gave each Mompreneur an opportunity to introduce themselves and share with us their personality in one word!
We learnt that social media played an integral role in the growth of our business as a lot of individuals are now hooked on to these platforms through out the day.
These are some points that were shared by the Facilitator to guide us in our social media journey for business growth;
Numbers do not necessarily equate to business. It is necessary to ensure that these numbers convert into sale for ones business
It is essential to understand each platform and know what works best on that platform. For instance Instagram is associated with more visuals and less text , understanding this will help a business owner know whether their product or service  will sell on Instagram.
Identify your unique selling point as a business and use it
Include hashtags in posts as this also helps to get our posts visible to a lot more people
Ensure your posts are 80% influencing your industry and 20%  selling your product or service
Understanding the number of times to post.
Sources of generating good content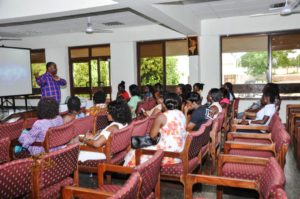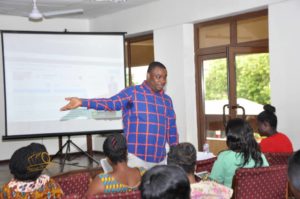 We were introduced to some sites that could help us with the right hastags to use such as Top Hashtags. Canva was recommended to help Mompreneurs with content creation such as posters.
We were also advised as a group to like and comment on each others post as that helped our profiles and posts to reach more people organically and create visibility for each others profile within our individual circles.
After the session, there was time for socialization , snacks and visiting of the exhibition table of all the vendors. They had some wonderful Made In Ghana products and services on display. Some Mompreneurs on exhibition included Teckulina Fashion , Akobamoxie, Afro Essentials and Pauligath.
Snacks was catered for by Afrakuma Catering and Flexy Foods. The Professional Pictures were taken by Platinum Photos.
Source: Ghana Mompreneurs Club