How would you like to sit in the comfort of your location and browse through a list of beauty and grooming places which are closest to you and are available at just the time when you need them. We caught up with Naa for our June Feature and she opened up to us on how her journey has been as an entrepreneur. Her company MHDE Ghana has an amazing concept coming up for grooming and beauty places that will bring convenience to clients.
Q. How did you start off as a Mompreneur?
A: I hated the thought of working for somebody who never appreciated my efforts or takes my advice or suggestions at the workplace simply because I'm a newbie and the famous ( that's how it's always done here) not willing to change attitude shown at the workplace. I'm someone who loves to create and brainstorm and I love teamwork and I really wanted to start a job or partnership that equally loves what I do.
Q. What inspired you to take that path in business?
A: I decided to opt out of the corporate world and do what I love and it was there that
I met someone who shared the same values and ideas like me and loves to get things done.
Q. Tell us a  little bit about your company and what you do?
I'm Awula Naa Amanuah Ankrah the country manager for My Hair Done Everywhere App (MHDE)Ghana. MHDE  is an app that promotes and help users find beauty and grooming places based on their location. We list businesses that are in the beauty and grooming industry ( hair salons, hairstylists including freelancers, makeup artists, wig makers, barbers, nail bars, spas, beauty suppliers, hair product manufacturers etc.)
Q. A little background about yourself
A: I'm a creative and young at heart. I'm an experienced brand strategist and creative entrepreneur and holds a masters in international business. Aside the managing MHDE Ghana I also have other side businesses I operate and manage. I own an Afrocentric accessory line, I'm a freelance market researcher trying to startup a consulting firm and a drop shipper( I help clients buy from china to Ghana)
Q. How you manage your day to day activities?
A: My days can be pretty hectic and I always manage by with journaling and checklist to help me get through the day. This practice helps me keep and stay on track on my activities for the day
Q: How you are able to balance taking care of your family and manage the business
A: Prayer and God's guidance help me to balance my family life and business. I have a supportive husband who encourages me to for my goals in life.
Q. What are the challenges you face as an entrepreneur?
A: I guess my challenge I'm currently facing with MHDE is getting beauty and grooming businesses listed on the app. I guess this is because they don't really understand how the concept works and now our team is investing a lot of time educating our prospective clients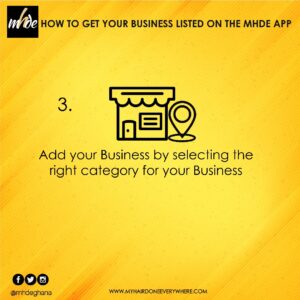 Q.  What are the processes and systems that have helped you in your entrepreneurial journey
A: Having a plan for my business and using the Business model canvas. This canvas helps me to bring out my ideas and brainstorm about my business and generate new ideas for my business. Also journaling and documenting my milestones have really helped a lot.
Q. Advise to any Mother who wants to start a business?
A: Get yourself a mentor who will help groom you and advise you on your startup journey
Follow MDHE Ghana on all social media platforms on @mdheghana.
To feature on our blog contact us on 0249879525 or email us on mompreneurgh@gmail.com. We would love to feature your story.