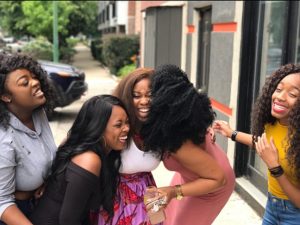 In business Networking is the process of  establishing mutually beneficial relationships with other business people and potential customers. Usually the main  purpose of business networking is to tell others about your business and hopefully turn them into customers. It is also another opportunity to gain new knowledge and learn about things you might probably have an idea about.  Sometimes you get solutions to problems that have been haunting you through networking . As a Mompreneur  networking can be great for you if you are looking at growing your own business. Currently networking events seem to be  catching on with professionals and especially new business owners everywhere.
As a Mompreneur you join a networking group for motivation, to share from the experiences of others, to get more people to know about what you do and most importantly to have some fun. When joining its essential to research and identify  group that  fits what you need and where you can also offer something valuable.
Check out these benefits I listed and I have enjoyed through networking ;
1. Finding clients who are in urgent need of my products and services : Even before I launched  my businesses officially , I had clients who were ready and willing to patronize my services.  Networking gave me the opportunity to interact with people who coincidentally needed my services once we were introduced to each other and they got know what I offer. When you are just starting off in business, finding the fright network can be a good source to earn your first revenue.
2. Meeting people that share similar purpose : Through networking I have joined amazing groups that I share similar distinct purposes with for each of the distinct groups. Some groups are the place to go for marketing. Some groups are the place to go for advise, Other are the place to go if you want to be updated with news in the technology industry and some groups . Finding a network with similar purposes helps you to promote your business in a constructive way.
3. Getting into contact with people I never imagined : Through networking I have met and had the opportunity to interact with amazing women who I look up to and use to learn from them form a distance. Through great networks I have met people I likely would have never met in my life and people who have influenced my business in a positive way. Without networking I would never have tapped into some useful resources from very experienced entrepreneurs.
4. Building your brand in an effective way : You are your own brand and your reputation is everything. Joining a network is a great way to build your brand. You have the opportunity of coming into with an audience and let them get to know you and what you do in a personal way. It helps you build a brand that people can trust.
5. Learning more and getting solutions to some common problems : Networking provides a platform to learn from people with expertise in the various business areas. We cannot know and have it all. Through networking groups we get in touch with people who are able to help us solve some problems or advise us on some best business practices. We also get the opportunity to  share the knowledge or expertise we have with others.