The Ghana Women's Entrepreneurship Summit 2018 was a two day program organised by the National Board for Small Scale Industries (NBSSI – www.nbssi.gov.gh) in June 2018 and I must say the attendance from women in business from all parts of Ghana was overwhelming. The special guest of Honor for the event was the President of the Republic of Ghana.
According to the MasterCard's Index of Women's Entrepreneurship 46.4% of businesses in Ghana are owned by women. It is not surprising that over 600 people from all walks of life thronged the Mövenpick Ambassador Hotel in Accra to benefit from what the NBSSI had to support their businesses.
The theme for the summit for this year was 'Voices into Action'. This is in the quest to find innovative ways to harness the untapped potential of women entrepreneurs.
In my first day of participating, I sat through the Kaizen Master Class though as an entrepreneur I am not into manufacturing or production. But I found this class useful for my personal office workspace and home.
Kaizen, also known as continuous improvement, is a long-term approach to work that systematically seeks to achieve small, incremental changes in processes in order to improve efficiency and quality.
Some benefits of this practice includes
1. Increase productivity
2. Improved quality
3. Better safety
4. Lower costs
5. Improved customer satisfaction
PS: I would advise all Mompreneurs into production and manufacturing to read more on this to better optimize their business processes.
I networked and met a couple of women in business, and we shared some business ideas and exchanged contacts.
The second day is where all the fun began….
So on the second day of the summit I was ushered in to the fourth row from the front and I was asked to sit beside a beautiful woman who should be in her mid thirties if not more. We were the only two seated on that row as that time. We were quiet for a while but then she says hello and then we introduced ourselves. Through conversation we realize we are both on a female founders group platform formed by Ispace. We had a long conversation before the program actually started. I got to know about her project Akoobooks, African Audio books.
My first lesson for the day,events are all about networking. Don't coil in at events especially networking events. Learn to reach out to others or opportunities may pass you by.
There were quiet a number of panel discussions on topics such as Mainstreaming the informal economy and Innovation Using Digital Technology. All these discussions were handled by men and women who are well vexed with high level of knowledge in the various topics.
We had a doctor share with us some health challenges entrepreneurs face everyday, Some simple healthy morning routines and some good eating practices.
There was an exhibition on-going at the event grounds that showcased wonderful Made in Ghana products and services being rendered by some of the Women in Business.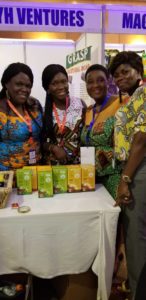 It was great to see some Mompreneurs showcasing their craft at the event.
My top 5 take away tips from the event to date has been
1. Innovation, always try to find new and creative ways to keep your business running. We need to challenge ourselves as entrepreneurs
2. Network, it is essential to take advantage of events that seek to promote entrepreneurship growth
3. We need to move from voice to action
4. Social media is a great gift to us as entrepreneurs. We should harness these tools to the advantage of our business.
5. We must learn to take risks. Sometimes risks come with great rewards.